01 June 2020 | Deviated Instinct - Nailed 30th Anniversary Vinyl Release
To mark it's 30th anniversary Terminal Filth are releasing a remastered recording of 'Nailed'.
Originally recorded in 1990 it built upon the foundations of the Guttural Breath album and finally marked the band's first creatively satisfying recording session to make it onto vinyl before the band split in 1991.
Available on a heavy weight (180g) black vinyl pressing of 500 with a gatefold outer sleeve and printed inner sleeve featuring new and reworked artwork.
To coincide with this release a new 'Nailed' shirt design is also available featuring the 30th anniversary release artwork to the front and back prints.
Pre-orders for both are available from our Bandcamp store on June 5th 2020
30 August 2019 | Limited edition Terminal Filth Stenchcore shirt design now available
We have a limited edition Terminal Filth Stenchcore print taken from the original 1986 screen up for pre-order and shipping around October 7th.
Available from our Bandcamp page.
17 April 2019 | Restocked merchandise and new shirt design now available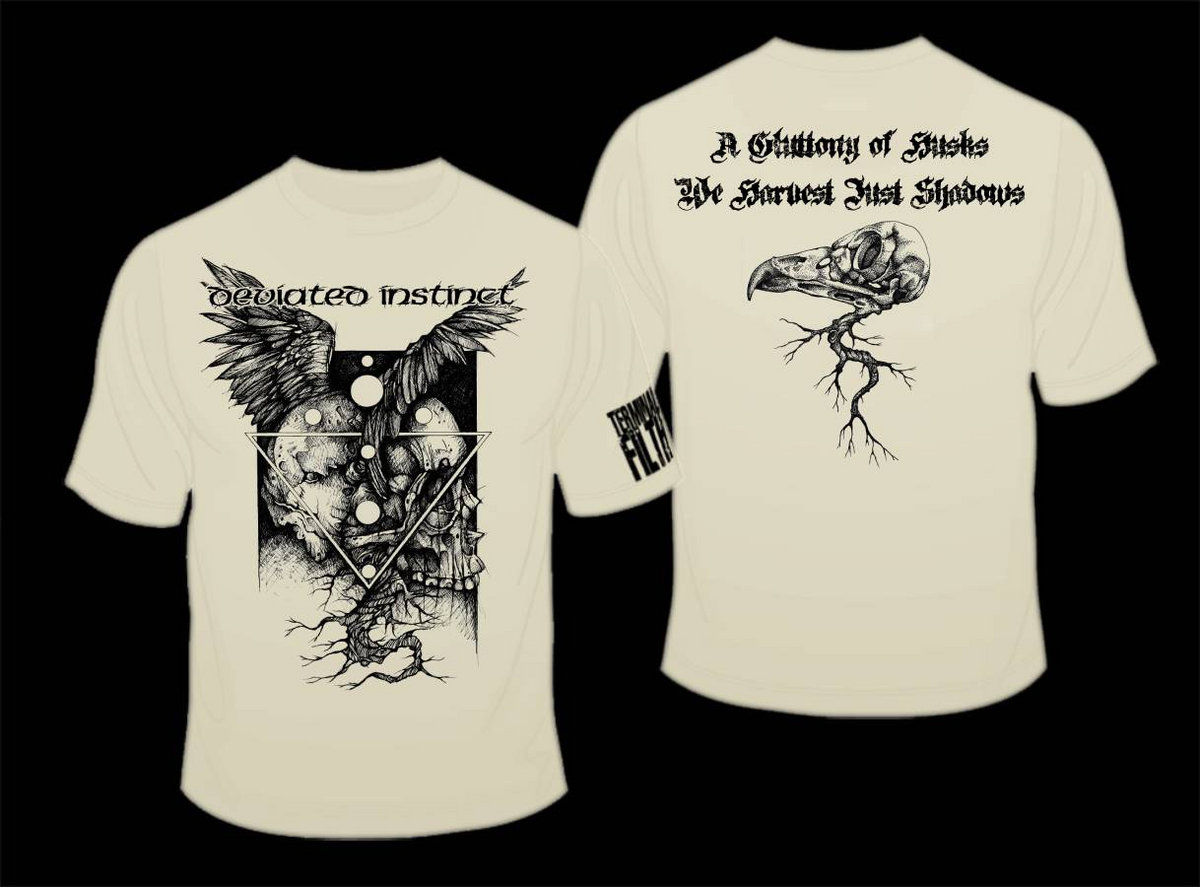 We've finally restocked our merchandise and posted up to Bandcamp. New stocks of Liberty Crawls and Stormcrow shirts plus a new design to mark the release of our Husk 12".
We also have some more faux leather embroidered logo patches, all now available direct from our Bandcamp page.
16 February 2019 | Rock n Roll Conformity and Guttural Breath vinyl re-issues now available from us directly
The remastered heavy weight vinyl versions of Rock n Roll Conformity and Guttural Breath are also now both available direct from our Bandcamp page.
17 January 2019 | Guttural Breath re-issue now available for pre-order
The remastered heavy weight vinyl version 1990's Guttural Breath is now available for pre-order from Peaceville and drops on 22 February 2019.
28 December 2018 | Peaceville re-issues
Peaceville are releasing remastered heavy weight vinyl copies of 1988's Rock 'n' Roll Conformity on 25 January 2019, swiftly followed by 1989's Guttural Breath on 22 February 2019.
07 December 2018 | Full length review of Husk
Our first full length review of Husk available via DIY Conspiracy
Crust pioneers are back with an epic new record
The first pressing of the 12" on heavy black vinyl has almost sold out, last few available via our Bandcamp page
14 September 2018 | Husk release
Available now for pre-order via our BandCamp page.
This 4 track 12" EP is a limited first pressing of 300 on our own Terminal Filth label. Pressed onto heavy 180gm black vinyl @ 45rpm with full colour outer and inner sleeve and printed lyrics.
Includes a digital download of high quality MP3 320kbps or Lossless FLAC files with full release artwork and lyrics.
Digital only version also available to pre-order.
Track listing:
Brave New Herd
We Harvest Just Shadows
None Shall Mourn
Longpig Crawling
Stream 'Brave New Herd' and 'We Harvest Just Shadows' from it now.
6th December 2017 | New releases planned
Been a while, but here's some news of some new (and not so new) noise we have planned for 2018.
Way back in February we went into the Studio at the 1in12 with Bri Doom at the controls to record some new shit. As with everything we seem to do, things have been moving at the pace of a particularly slow glacier. However we should finally have our new 4 song 12" ep 'Husk' out on our own Terminal Filth records and therefore also via Bandcamp sometime early next year.
During that session we also recorded 5 oldies that have been in and out of the set over the past few years. At first they were just intended as download extras but we've decided to put them together as a second 12" ( coming out a little while after Husk).
Both new 12"s and the Liberty Crawls 12" with other odd tracks will also be released onto one CD later in the year.
Depending if we sell enough to generate some funds we also intend to reissue the classic 1990 Nailed 12" (with new artwork) later in the year.
On top of that we've heard that Peaceville have plans to finally re-released Rock 'n' Roll Conformity and Guttural Breath on vinyl next year. We'll pass on more info when we get it.
Look out for a preview track from the new e.p on YouTube soonish.